Winter is the low season in the real estate industry, so photographers are also less busy than usual. Not to mention, this is also the time that makes it more difficult to carry out photo sessions because the weather conditions do not allow it. Therefore, this is considered the most sensitive and difficult period of the year for all real estate photographers. Because if you just get distracted and don't prepare well for your winter shoots, you could end up losing your loyal clients.
1. Follow up the weather and should choose the sunny day to take the photoshoot
We all know that it's hard to expect a sunny day in winter. But trust me, you'll find this waiting more valuable than ever. With many years of experience as an editor, we believe that sunlight will make your photos vivid, with the freshness and will be more attractive to home buyers.
However, the weather will never be according to people's desire. So many photographers were forced to shoot in bad weather conditions (such as snowy, cloudy, gloomy weather). Because of that, the service to convert winter photos into spring/summer photos has appeared in the real estate photography market. At BEEPEC, we have a team of skilled editors who can bring the spring/summer feeling to your winter photos, by removing snow, adding trees, making the surroundings more alive, creating the warmth and cozy for your photos.
2. Clean up all windows before taking photoshoot
The weather is cold, so it is inevitable that the windows will be covered by fog and the view outside won't be clear. Therefore, the photos taken from indoors, the window view will be blurred, making the photo less aesthetic. Many photographers choose to take different exposures to get window details, but if the window is blurred because of the surrounding weather, it is a waste of time and effort taking extra exposures which are useless.
However, coming to BEEPEC, we can clear the window view for you by removing stains, snow, or smudges, in many cases if it is too difficult to remove them, we can replace the view with a new one that is similar with the original.
3. Use all the indoor light
Due to the lack of natural light from the outside in the murky weather of winter, indoor photos are often lifeless and somewhat gloomy. Hence, just use all the indoor light. Your photos will be full of light/brightness and make the house cozy.
With BEEPEC, we can make your low-light photos become warmer and more well-lit. With a team of editors who have many years of experience and are well-trained to get the right feel for your photos, they can bring a good feeling to your photos and meet each of your advertising purposes.
4. Clean up the snow before shooting
Snow is always a big problem that makes many photographers feel nervous when taking real estate photos, especially outdoor photos. Snow can cover all the important details of the house. Make the whole house look sloppy and untidy. This will hinder the process of marketing that house. So, clearing the snow will help you satisfy your customers. It shows your thoughtful and careful preparation for the photo shoot.
However, there are cases that you may not be able to clear the snow before taking the photos. This is no longer a big problem when the photoshop tool has grown so that editors can perform retouching operations to remove the snow for you.
The team of editors at BEEPEC are familiar with this product. We have trained them to be highly skilled in item removals and able to recreate the details after snow removal in the most realistic way.
For this kind of work, we also have Season Conversion Services as well. Season Conversion in photography is a technique of converting a photograph which is taken in a weather condition to another. Specifically, in real estate photography, almost requests are to convert a photo from winter to spring or summer, with the sunlight and vivid scenery.
Here are the steps to do Season Conversion for a photo:
– Recreating the tree, making the surrounding trees more fresh and alive.
– Clearing snow.
– Replacing the grass
– Adding blue sky
5. Use more festive decorations
Winter is the end of the year with many different festivals, so an effective way to reduce the cold and gloomy atmosphere of winter is to use festive decorations, for example, lights, Christmas decorations, Christmas trees…
If the house you photographed already has these decorations, this is too great. However, if the homeowner does not have these decorations available, you can look to photoshop or 3D software to add them.
In our opinion, to save your time and effort, what you need to do the most is to find experts in this field, they will have 3D furniture/decorations for you to add to your photos. At BEEPEC, we have a team of 3D operators that can help you do this in the most efficient way. We can make your photos more cozy with high realism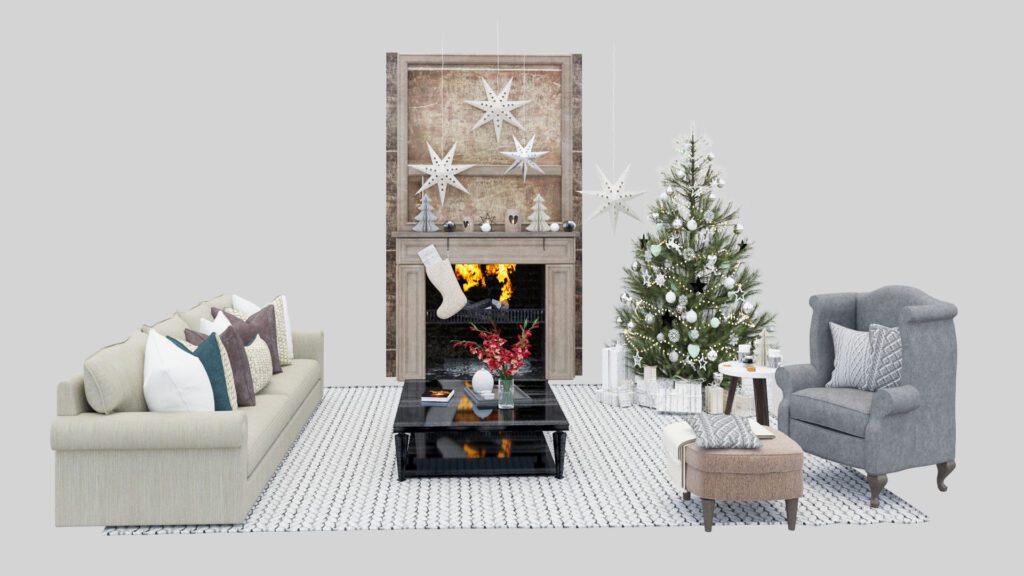 All in all, taking real estate photos in the winter weather is always something that makes many photographers hesitate, but now with the development of technology as well as the increasing skills of many editors , winter real estate photos are no longer a big deal. BEEPEC is proud to provide you with a team of high-skilled editors, with the ability to quickly process your winter photos, making them warmer and more appealing to homebuyers.