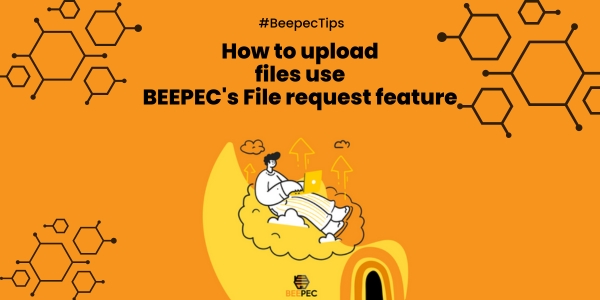 Here is our FiIes request feature: https://beepec.com/files-request/
When you drop your file here your files can be uploaded directly to us without login.
Here is the guide:
1. Make sure you have zipped your file if you have more than only one file that want to send it to us.
2. Drag and drop file from your computer over the upload window. Once you have selected your Zipped file.

While you won't need a storage account to upload file, you will need to leave a name and email address and related info. Please use the same info as you contacted us before.
Once you hit the Submit button, you'll get an email confirming what you uploaded.

The upgraded Seamless Uploading feature offers a range of benefits that will enhance your workflow and simplify your experience:
Time-saving convenience: By eliminating complex upload processes, Seamless Uploading enables you to upload files quickly and effortlessly. Say goodbye to wasted minutes and hello to increased productivity. No more moving tabs to tabs to upload. Just create an order, drag, drop on the same page, and you're done!
User-friendly experience: We believe that technology should be intuitive and easy to use. Our Seamless Uploading feature is designed with simplicity in mind, ensuring a seamless experience for all users, regardless of their technical expertise.
Compatibility and reliability: Our system is equipped to handle a variety of file types, ensuring compatibility and reliability throughout the uploading process. You can upload documents, images, videos, and more with confidence, knowing that our system can handle it all.
Enhanced collaboration: Share files effortlessly, keeping everyone on the same page and improving overall productivity.

Unlimited storage

No file size limitation
Upload all type of extensions no matter how RAW or 4K
User-friendly experiences
A smoother workflow
High speed that powered by Google Drive.
That's all! Let us know if you need any support. Thank you!